Dongin (Donoven) Kim, Ph.D.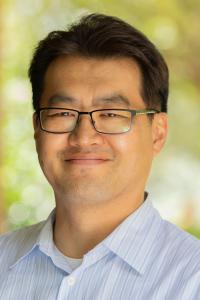 ---
Publications & Presentations
11. Kang M, Tang B, Li J, Zhou Z, Liu K, Wang R, Jiang Z, Bi F, Patrick D, Kim D, Mitra A K, Yang-Hartwich Y. Identification of miPEP133 as a novel tumor-suppressor microprotein encoded by miR-34a pri-miRNA. Molecular cancer. 2020; 19 : 143

12. Arun Kumar S, Good J, Hendrix D, Yoo E, Kim D, Deo K A, Jhan Y Y, Gaharwar A K, Bishop C J. Nanoengineered Light-Activatable Polybubbles for On-Demand Therapeutic Delivery. Advanced functional materials. 2020; 30 : 2003579

13. Kang C, Kim D. Nanoconfinement-mediated cancer theranostics. Archives of pharmacal research. 2020; 43 : 110-117

14. Yoo D, Jung E, Noh J, Hyun H, Seon S, Hong S, Kim D, Lee D. Glutathione-Depleting Pro-Oxidant as a Selective Anticancer Therapeutic Agent. ACS omega. 2019; 4 : 10070-10077

15. Ash G I, Kim D, Choudhury M. Promises of Nanotherapeutics in Obesity. Trends in endocrinology and metabolism: TEM. 2019; 30 : 369-383


Grants
1. Lymphatics and lymphangiogenesis in kidney function and inflammation. NIH. Start Date: 2019. End Date: 2024.

2. Role of Renal Lymphatics in Blood Pressure Regulation. NIH. Start Date: 2018. End Date: 2023.

3. Cancer exosome mediated antibody production for active tumor targeting treatment. Non-federal. Start Date: 2022. End Date: 2023.

4. Engineering Exosome for Ovarian Cancer Targeting Therapy. NIH. Start Date: 2021. End Date: 2023.

5. Exosome based intraocular therapy combined with active targeting of ocular neovascularization. NIH. Start Date: 2022. End Date: 2022.


Awards and Honors
no results
Education
1. Degree: Ph D. University of Utah. Date: 2009.

2. Degree: MS. University of Florida. Date: 2002.

3. Degree: BS. Ajou University. Date: 1999.