Dongin (Donoven) Kim, Ph.D.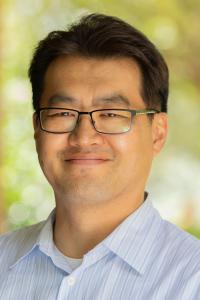 ---
Publications & Presentations
21. Alvero A B, Kim D, Lima E, Sumi N J, Lee J S, Cardenas C, Pitruzzello M, Silasi D A, Buza N, Fahmy T, Mor G. Novel approach for the detection of intraperitoneal micrometastasis using an ovarian cancer mouse model. Scientific reports. 2017; 7 : 40989

22. Siefert A L, Fahmy T M, Kim D. Artificial Antigen-Presenting Cells for Immunotherapies. Methods in molecular biology (Clifton, N.J.). 2017; 1530 : 343-353

23. Youm Y H, Nguyen K Y, Grant R W, Goldberg E L, Bodogai M, Kim D, D'Agostino D, Planavsky N, Lupfer C, Kanneganti T D, Kang S, Horvath T L, Fahmy T M, Crawford P A, Biragyn A, Alnemri E, Dixit V D. The ketone metabolite β-hydroxybutyrate blocks NLRP3 inflammasome-mediated inflammatory disease. Nature medicine. 2015; 21 : 263-9

24. Yim H, Park W, Kim D, Fahmy T M, Na K. A self-assembled polymeric micellar immunomodulator for cancer treatment based on cationic amphiphilic polymers. Biomaterials. 2014; 35 : 9912-9919

25. Lee J O, Oh K T, Kim D, Lee E S. pH-sensitive short worm-like micelles targeting tumors based on the extracellular pH. Journal of materials chemistry. B. 2014; 2 : 6363-6370


Grants
1. Lymphatics and lymphangiogenesis in kidney function and inflammation. NIH. Start Date: 2019. End Date: 2024.

2. Role of Renal Lymphatics in Blood Pressure Regulation. NIH. Start Date: 2018. End Date: 2023.

3. Cancer exosome mediated antibody production for active tumor targeting treatment. Non-federal. Start Date: 2022. End Date: 2023.

4. Engineering Exosome for Ovarian Cancer Targeting Therapy. NIH. Start Date: 2021. End Date: 2023.

5. Exosome based intraocular therapy combined with active targeting of ocular neovascularization. NIH. Start Date: 2022. End Date: 2022.


Awards and Honors
no results
Education
1. Degree: Ph D. University of Utah. Date: 2009.

2. Degree: MS. University of Florida. Date: 2002.

3. Degree: BS. Ajou University. Date: 1999.