Meds to Desk
About Meds-to-Desk
Meds-to-Desk was created as a simple and convenient way for you to receive your prescription medications without having to make an additional stop on your way home.  The service is FREE to OU employees and their family members and easy to enroll in; simply follow the steps below.
* This service is currently only available at our OU Clinic Pharmacy on the Schusterman Campus during pharmacy hours of operation. OU Clinic Pharmacy is open Monday - Friday 8:30 a.m. to 5:30 p.m. closed on Saturday and Sunday.  We will be expanding to our OUHSC campus soon!

Contact OU Clinic Pharmacy at (918) 619-4990 and we will take care of the details.
Upon enrollment and first delivery, employees will receive a FREE limited edition lunch bag.  *Lunch bags are limited to 1 per employee.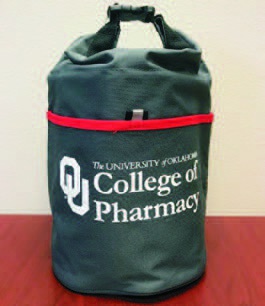 Meds to Desk FAQ's
Meds To Desk Flyer