Vibhuti Agrahari, Ph.D.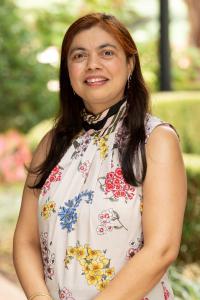 Assistant Professor
Pharmaceutical Sciences
Phone 405-271-6751 x47244
Fax 405-271-7505
Office CPB 325
---
Summary
My research focuses on long-term drug delivery by designing innovative systems such as nanocarriers, micelles, and hydrogels using biomaterials. The research activities include rationale design, optimization, and evaluation of the nanoformulations for local, targeted and sustained delivery of biotherapeutic and small molecule drugs using stimuli-responsive polymers, natural polymers, block- and random- copolymers, etc. The ultimate goal of my research laboratory is to develop biomaterials that can provide selective, controlled, non-toxic, biodegradable, and stimuli-responsive platforms to target therapeutic agents to the sites of ocular and inner ear diseases. My laboratory is specialized in the area of (a) sustained delivery of protein/antibodies for the back of eye diseases. (b) non-invasive treatment, and prevention of vision loss due to ocular injuries. (c) next-generation therapeutics for anterior segment ocular diseases (d) nanotherapeutic approaches to provide a prophylactic cure for Chemotherapeutic-Induced Ototoxicity (CIO). 
---
Grants
New Investigator Grant: "Bio-responsive NanoSensoGel for Prevention of Cisplatin-induced Ototoxity and Hearing Loss"
Presbyterian Health Foundation
07/01/2021 - 06/30/2022
CFAR Grant: "ROS-responsive NanoSensoGel for Prevention of Cistplatin-Induced Ototoxicity and Hearing Loss"
Capita Foundation
11/01/2021 - 12/31/2022
---
Publications & Presentations
1. Agrahari V, Chauhan H. Polyphenols against infectious diseases: Controlled release nano-formulations. EUROPEAN JOURNAL OF PHARMACEUTICS AND BIOPHARMACEUTICS. 2021; 161 : 66-79

2. Agrahari V, Agrahari V, Chou M, Chew C H, Noll J, Burnouf T. Intelligent micro-/nanorobots as drug and cell carrier devices for biomedical therapeutic advancement: Promising development opportunities and translational challenges. BIOMATERIALS. 2020; 260

3. Agrahari V, Agrahari V, Burnouf P, Chew C H, Burnouf T. Extracellular Microvesicles as New Industrial Therapeutic Frontiers. TRENDS IN BIOTECHNOLOGY. 2019; 37 : 707-729

4. Burnouf T, Agrahari V, Agrahari V. Extracellular Vesicles As Nanomedicine: Hopes And Hurdles In Clinical Translation. INTERNATIONAL JOURNAL OF NANOMEDICINE. 2019; 14 : 8847-8859

5. Li G, Lee C, Agrahari V, Wang K, Navarro I, Sherwood J M, Crews K, Farsiu S, Gonzalez P, Lin C, Mitra A K, Ethier C R, Stamer W D. In vivo measurement of trabecular meshwork stiffness in a corticosteroid-induced ocular hypertensive mouse model. PROCEEDINGS OF THE NATIONAL ACADEMY OF SCIENCES OF THE UNITED STATES OF AMERICA. 2019; 116 : 1714-1722


Grants
1. Bio-responsive Nano-SensoGel for Prevention of Chemotherapy-Induced Ototoxicity and Hearing Loss . Non-federal. Start Date: 2021. End Date: 2022.


Awards and Honors
1. University of Missouri Kansas City, Kansas City, MO. Board of Directors, GAF Women Council. Date: 2022.

2. Shenandoah University. Bernard J. Dunn, Jr. Faculty Research Award. Date: 2018.

3. Shenandoah University. Single Discipline Faculty Development Award. Date: 2018.

4. Society for Laboratory Automation Science. Tony B. Academic Travel Award. Date: 2017.

5. National Biotechnology Conference, AAPS. Biotechnology Graduate Student Symposium Award,. Date: 2016.


Education
1. Degree: Ph D. University of Missouri- Kansas City. Date: 2017.

2. Degree: M. Pharm.. Shri G.S. Institute of Technology & Science, India . Date: 2008.

3. Degree: B. Pharm. Shri G.S. Institute of Technology & Science, India . Date: 2005.