Vibhudutta Awasthi, Ph.D.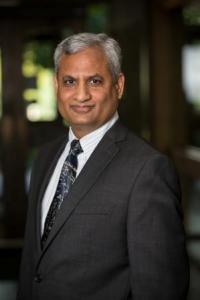 Professor and Sandra K. & David L. Gilliland Chair in Nuclear Pharmacy
Department of Pharmaceutical Sciences
Phone (405) -271-6593 x47331
Fax (405) -271-7505
Office CPB 309
---
Summary
My research interests are in the development of radiopharmaceuticals, small animal imaging and use of radiological imaging techniques to answer physiological questions. My current research focuses on the development of liposome encapsulated hemoglobin as an artificial oxygen carrier and he is studying cerebral oxygen metabolism using positron emission tomography. I am a board certified nuclear pharmacist with expertise in areas related to drug delivery, formulation development, nuclear pharmacy and small animal nuclear imaging.
---
Education & Experience
Ph.D. in Nuclear Medicine
Sanjay Gandhi Postgraduate Institute of Medical Sciences, Lucknow, Uttar Pradesh (India)
1994
M. Pharm. in Pharmaceutics
Dr. Hari Singh Gour University, Saugor, Madhya Pradesh (India)
B. Pharm. in Pharmacy
Dr. Hari Singh Gour University, Saugor, India
1988
---
Publications & Presentations
1. Awasthi S, Rahman N, Hedrick A, Awasthi V, Breshears M, Kosanke S. Analysis of health and lung injury markers in mice treated with TLR4-interacting SPA4 peptide. Journal of Immunology (Annual Meeting Abstracts). 2019; 202 : 64.26

2. Mdzinarishvili A, Houson H, Sidorov E, Awasthi V. Detection of Cerebral Necrosis in Ischemic Stroke Using a New Infarct-Avid Agent 18F-Fluorodeoxyglucaric Acid (FGA) in a Mouse Model of Stroke. BRAIN INJURY. 2019; 33 : 215-215

3. Awasthi V, Awwad H O, Houson H, Hedrick A, Mdzinarishvili A, Standifer K. Hemorrhagic Shock Aggravates Traumatic Brain Injury: Evidence from PET Imaging Using 18F-Fluorodeoxyglucaric Acid in a Rat Model. BRAIN INJURY. 2019; 33 : 117-118

4. Awasthi V, Vilekar P, Rao G, Awasthi S. Anti-inflammatory mediators ST2 and SIGIRR are induced by diphenyldifluoroketone EF24 in lipopolysaccharide-stimulated dendritic cells. Immunobiology. 2019

5. Virani N, Hedrick A, Wu D, Southard B, Liu H, Awasthi V, Harrison R. Enhanced computed tomography imaging of breast cancer via phosphatidylserine targeted gold nanoparticles. Biomedical Physics & Engineering Express. 2019; 5 : 065019