Shanjana Awasthi, Ph.D.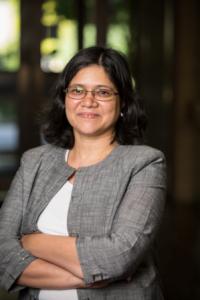 Associate Professor
Department of Pharmaceutical Sciences
Phone (405) 271-6593 x47332
Fax (405) 271-7505
Office CPB 324
---
Summary
Research in my lab is focused on developing immunotherapeutics and vaccines by harnessing our body's natural host defense mechanisms. Our research efforts have been focused on developing TLR4-interacting surfactant protein-A-derived peptides and dendritic cell-based vaccine approaches. We are interested in investigating the mechanisms of action and efficacy of these approaches using structural, computational, physicochemical, and immunological tools and methods, and in vitro and in animal models of infection, inflammation and cancer.
---
Education & Experience
Ph.D. in Microbiology
Sanjay Gandhi P.G. Institute of Medical Sciences, Lucknow, India
1995
M.Sc. in Biosciences
Indian Institute of Technology, Roorkee, India
1990
B.Sc. in Zoology, Botany, Chemistry
MKP College/HNB University, Dehradun, India
1988
Certifications & Licenses
Categorical certificate in Clinical Microbiology
UTHSCSA, TX
2006
Certified in Clinical Microbiology
American Society of Clinical Pathologists
---
Honors & Awards
Professional Awards
Travel Award
American Association of Immunologists
Teaching Excellence Course
UTHSCA, San Antonio, TX
Postdoctoral Travel Award (for presentation at meeting)
Society of Leukocyte Biology
---
Publications & Presentations
Awasthi S, Singh B, Ramani V, Xie J, Kosanke S. TLR4-interacting SPA4 peptide improves host defense and alleviates tissue injury in a mouse model of Pseudomonas aeruginosa lung infection. PloS one. 2019; 14 : e0210979
Awasthi S, Kumar G, Xie J, Beierle J, Awasthi V, Ramani V, Singh B, Breshears M, Kosanke S. Toll-like receptor-4-interacting surfactant protein-A-derived peptide reduces inflammation in a mouse model of intratracheal lipopolysaccharide challenge. Journal of Immunology. 2018; 174.10
Awasthi S. Intranasal Antifungal Vaccination Using DNA-Transfected Dendritic Cells. Methods Mol Biol. 2017; 1625 : 75-83
Yadav V R, Rao G, Houson H, Hedrick A, Awasthi S, Roberts P R, Awasthi V. Nanovesicular liposome-encapsulated hemoglobin (LEH) prevents multi-organ injuries in a rat model of hemorrhagic shock. European journal of pharmaceutical sciences : official journal of the European Federation for Pharmaceutical Sciences. 2016; 93 : 97-106
Grants
Surfactant protein-A regions as TLR4-immunomodulators. 2017.
TLR4-interacting SPA4 peptide: A novel therapeutic. 2000.
Control of lung inflammation by a TLR4-interacting SP-A-derived peptide. 2013.
TLR4-immunomodulation by a surfactant protein-A peptide. 2000.
Evaluation of a TLR4-interacting peptide in colon cancer. 2000.