Anne Kasus-Jacobi, Ph.D.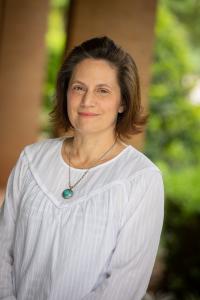 ---
Summary
My lab currently focuses on two research projects that aim at uncovering the molecular mechanisms by which the cationic antimicrobial protein CAP37 is affecting (1) corneal wound healing and (2) neuroinflammation, with the long-term goal of developing peptide therapeutics for ocular injuries and Alzheimer's disease.
     In collaboration with Dr. Pereira, we found that the antimicrobial and inflammatory mediator CAP37, and several CAP37-derived antimicrobial peptides could promote corneal wound healing andclearance of corneal infections in vivo. Recently, my lab started to focus on the identification of the molecular mechanisms involved in the wound healing activity of CAP37 and CAP37-derived peptides. The goal of this project is the identification of the receptor and intracellular signaling molecules mediating CAP37-induced corneal wound healing.     

     In collaboration with Dr. Pereira, we also explored the potential roles of CAP37 in diseases linked to aging and chronic inflammation. We have shown increased expression of CAP37 in the neurons of patients with Alzheimer's disease, and an effect of CAP37 on two important players of this disease; amyloid beta and the Receptor for Advanced Glycation End-products (RAGE). To pursue this line of research, my lab is currently exploring the structural aspects of CAP37's effects on RAGE and amyloid beta. This project, funded by the Oklahoma COBRE in Structural Biology, was started in 2017.
---
Publications & Presentations
16. Babizhayev M A, Khoroshilova-Maslova I P, Kasus-Jacobi A. Novel intraocular and systemic absorption drug delivery and efficacy of N-acetylcarnosine lubricant eye drops or carcinine biologics in pharmaceutical usage and therapeutic vision care. Fundamental & clinical pharmacology. 2012; 26 : 644-78

17. Marchette L D, Wang H, Li F, Babizhayev M A, Kasus-Jacobi A. Carcinine has 4-hydroxynonenal scavenging property and neuroprotective effect in mouse retina. Investigative ophthalmology & visual science. 2012; 53 : 3572-83

18. Kasus-Jacobi A, Ash J D. AAV2-hRPE65v2, an adeno-associated viral vector-mediated human rpe65 gene therapy for Leber's congenital amaurosis. Thomson Reuters Pharma. 2012

19. Kasus-Jacobi A, Marchette L D, Xu C, Li F, Wang H, Babizhayev M. Mechanisms of RDH12-Induced Leber Congenital Amaurosis and Therapeutic Approaches. Intech. 2012

20. Mandal M N, Moiseyev G P, Elliott M H, Kasus-Jacobi A, Li X, Chen H, Zheng L, Nikolaeva O, Floyd R A, Ma J X, Anderson R E. Alpha-phenyl-N-tert-butylnitrone (PBN) prevents light-induced degeneration of the retina by inhibiting RPE65 protein isomerohydrolase activity. The Journal of biological chemistry. 2011; 286 : 32491-501


Grants
1. Novel Ophthalmic Product for Corneal Infections and Injuries. NIH. Start Date: 2021. End Date: 2023.

2. Seed Grant- Characterization of changes in pathogenic amyloid beta aggregation induced by peptide drug candidates for Alzheimer's disease. Intramural Funding. Start Date: 2022. End Date: 2023.

3. OU Growth Fund- Multi-Target Peptide: A Drug to Remember. Misc Non-Federal. Start Date: 2021. End Date: 2023.

4. The Midwest Biomedical Accelerator Consortium (MBArC)/ Subaward - Multi-Target Peptide: A Drug to Remember. NIH. Start Date: 2021. End Date: 2022.

5. Peptide Therapeutics for Treating Alzheimer's Disease. NIH. Start Date: 2020. End Date: 2021.


Awards and Honors
1. OUHSC College of Pharmacy. Seed Grant. Date: 2022.

2. OCAST. OCAST-OARS. Date: 2022.

3. OUHSC/Office of Technology Development. Growth Fund. Date: 2021.

4. NIH. MBArC-REACH. Date: 2021.

5. NIH. The Sustainable Heartland Accelerator Regional Partnership (SHARP) Hub. Date: 2020.


Education
1. Degree: Ph D. University of Paris XI. Date: 1998.

2. Degree: MS. University of Paris VII. Date: 1993.

3. Degree: BS. University of Paris VII. Date: 1992.