Aditya D. Joshi, Ph.D.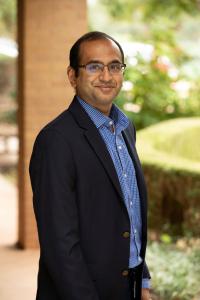 ---
Summary
My research is focused on understanding Aryl hydrocarbon Receptor (AhR) signaling in normal liver physiology as well as in plethora of hepatic and metabolic diseases. The AhR is a ligand-activated transcription factor, historically studied in the context of exogenous ligand 2,3,7,8-tetrachlorodibenzo-p-dioxin (TCDD, dioxin) induced toxicity. We have demonstrated that in contrast to the toxicity exhibited by exogenous AhR agonists, the endogenous AhR ligand, cinnabarinic acid induced expression of AhR target gene, stanniocalcin 2 is responsible for hepatoprotection against chemical, environmental and pharmacological stressors both in vitro and in vivo. Our long-term objectives are to mechanistically study repertoire of AhR target genes in the context of liver and metabolic diseases and to develop a translational approach to AhR biology by identifying and characterizing therapeutically useful endogenous AhR agonists to ameliorate hepatic injury. To achieve our long-term goal my research employs cutting-edge cellular, molecular and biochemical methodologies as well as utilizes innovative genome-wide technologies such as next-generation sequencing (RNA, ChIP and ATAC-seq) and CRISPR mediated genome editing. 

---
Publications & Presentations
6. Joshi A. New Insights Into Physiological and Pathophysiological Functions of Stanniocalcin 2. Frontiers in endocrinology. 2020; 11 : 172

7. Joshi A, Hossain E, Elferink C J. Epigenetic Regulation by Agonist-Specific Aryl Hydrocarbon Receptor Recruitment of Metastasis-Associated Protein 2 Selectively Induces Stanniocalcin 2 Expression. Molecular pharmacology. 2017; 92 : 366-374

8. Lee C S, Hanna A D, Wang H, Dagnino-Acosta A, Joshi A, Knoblauch M, Xia Y, Georgiou D K, Xu J, Long C, Amano H, Reynolds C, Dong K, Martin J C, Lagor W R, Rodney G G, Sahin E, Sewry C, Hamilton S L. A chemical chaperone improves muscle function in mice with a RyR1 mutation. Nature communications. 2017; 8 : 14659

9. Wright E J, De Castro K P, Joshi A, Elferink C J. Canonical and non-canonical aryl hydrocarbon receptor signaling pathways. Current opinion in toxicology. 2017; 2 : 87-92

10. Gaziova I, Jackson D, Boor P J, Carter D, Cruz-Monserrate Z, Elferink C J, Joshi A, Kaphalia B, Logsdon C D, de Pereira Castro K, Soong L, Tao X, Qiu S, Elferink L A. The MET Receptor Tyrosine Kinase Confers Repair of Murine Pancreatic Acinar Cells following Acute and Chronic Injury. PloS one. 2016; 11 : e0165485


Grants
no results
Awards and Honors
1. Society of Toxicology. Mechanism Specialty Section Research Award. Date: 2015.

2. Society of Toxicology. Molecular and Systems Biology Specialty Section Research Award. Date: 2015.

3. Society of Toxicology. Dr. Dharm Singh Award. Date: 2013.

4. Society of Toxicology. Molecular Biology Specialty Section Research Award. Date: 2013.

5. University of Texas Medical Branch. Mason Guest Award in Physiology and Biophysics . Date: 2006.


Education
1. Degree: Ph D. University of Texas Medical Branch. Date: 2008.

2. Degree: MS. University of Mumbai. Date: 2002.

3. Degree: BS. University of Mumbai. Date: 2000.