Hibah Awwad, Ph.D.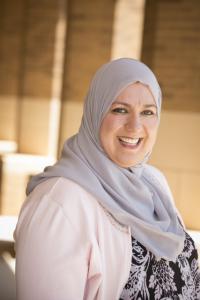 Clinical Assistant Professor
Department of Pharmaceutical Sciences
Phone (405) 271-6593 x47210
Fax (405) 271-7505
Office CPB 315
Email hawwad@ouhsc.edu
---
Summary
Traumatic brain injury (TBI) is a leading cause of death and disability in young adults. To date, there are no FDA-approved drugs for TBI. The main focus of our research is to study the mechanisms of neurotoxic factors released after a brain injury, in order to identify potential targets for novel neuroprotective therapies. Scientific methods include neuropharmacology via molecular, biochemical, behavioral and imaging techniques.
---
Education & Experience
Ph.D. in Pharmacology
University of Houston, Houston, TX
2005
B.Sc. in Pharmacy
Amman University, Amman, Jordan
1998
Certificate in Preparing Future Faculty
University of Oklahoma Health Sciences Center, Oklahoma City, OK
2010
---
Honors & Awards
Professional Awards
Provost's Teaching Award for Early Career Faculty
University of Oklahoma Health Sciences Center, OKC, OK
Educator of the Year Award
University of Oklahoma College of Pharmacy
AACP WalMart Scholar
American Association of Colleges of Pharmacy (San Antonio general meeting)
Academic Awards
Postdoctoral Travel Award
Society for Neuroscience (Washington, DC)
2011
Postdoctoral Research Award (for scientific achievement - travel award)
Graduate College; University of Oklahoma Health Sciences Center, OKC, OK
2010
Postdoctoral Scientific Research Award - Neuropharmacology Division
ASPET. Experimental Biology/Federation of American Societies. Experimental Biology (Anaheim, CA)
2010
John B. Bruce Scholarship Award - Outstanding postdoctoral fellow in pharmaceutical Sciences
OU College of Pharmacy, Oklahoma City, OK
2010
---
Publications & Presentations
1. Awasthi V, Awwad H O, Houson H, Hedrick A, Mdzinarishvili A, Standifer K. Hemorrhagic Shock Aggravates Traumatic Brain Injury: Evidence from PET Imaging Using 18F-Fluorodeoxyglucaric Acid in a Rat Model. BRAIN INJURY. 2019; 33 : 117-118

2. Baier M P, Lerner M R, Awwad H O. Histamine Release in Traumatic Brain Injury: Neurotoxic or Neuroprotective. American Journal of Pharmaceutical Education. 2018; 82 : 555

3. Awwad H O, Durand C D, Gonzalez L P, Tompkins P, Zhang Y, Lerner M R, Brackett D J, Sherry D M, Awasthi V, Standifer K. Post-blast treatment with Nociceptin/Orphanin FQ peptide (NOP) receptor antagonist reduces brain injury-induced hypoxia and signaling proteins in vestibulomotor-related brain regions. Behavioural brain research. 2018

4. Baier M, Lerner M R, Awwad H O. Temporal changes in mast cell release following a mild traumatic brain injury in rats. Society for Neuroscience Annual Meeting Proceedings. 2017

5. Oleru A V, Edwards A C, Awwad H O. Mild traumatic brain injury increases histamine-3-receptor expression. Journal of Neurotrauma. 2017; 34 : A-103