Sukyung (Sue) Woo, Ph.D.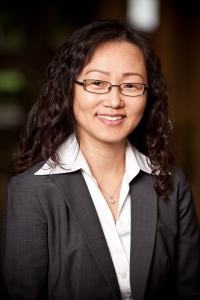 ---
Summary
     Our research utilizes a quantitative systems pharmacology approach that combines computational and experimental methods to guide development of new therapies and potential combination therapies and identification of novel biomarkers for cancer. Quantitative systems pharmacology is integrating systems pharmacology with pharmacokinetics/pharmacodynamics (PK/PD) to advance drug discovery and understanding of drug action, and holds great promise to facilitate translational research. The Translational PK/PD Modeling & Simulation Facility contains advanced computational infrastructure that is capable of performing complex biomedical translational PK/PD analysis. The research is also focused on investigating how genetic polymorphisms in drug metabolizing enzymes and transporters as well as in drug targets (e.g., ligands, receptors) influence disposition, toxicity, and efficacy of targeted anticancer agents and translating these findings toward personalized medicine.

---
Education & Experience
B.S. in Pharmacy
Chungnam National University, Korea
1999
M.S. in Pharmacokinetics
Chungnam National University, Korea
2001
Ph.D. in Pharmaceutical Sciences
University at Buffalo, SUNY, New York
2007
Post-Doc in Clinical Pharmacology
National Cancer Institute (NIH-NCI), Center for Cancer Research, Baltimore, MD
2010
---
Publications & Presentations
Lim S Y, Woo S, Miller J L, Lewis T V, Henry E D, Johnson P N. Dosing for Fentanyl Infusion in Obese Children: Just Because It's What We Have Always Done Doesn't Mean It Is Right. The journal of pediatric pharmacology and therapeutics : JPPT : the official journal of PPAG. 2018; 23 : 223-226
Sharma A, Benbrook D, Woo S. Pharmacokinetics and interspecies scaling of a novel, orally-bioavailable anti-cancer drug, SHetA2. PLOS One. 2018
Jaiprasart P, Yeung B Z, Lu Z, Wientjes M G, Cui M, Hsieh C, Woo S, Au J. Quantitative contributions of processes by which polyanion drugs reduce intracellular bioavailability and transfection efficiency of cationic siRNA lipoplex. Journal of Controlled Release. 2018; 270 : 101-113
Grants
Normalizing Deranged Tumor Metabolism by Nanoparticles. 2019.
Apelin/APJ promotes metastasis and chemoresistance. 2019.
Clinical Development of Novel Low-Toxicity Strategies Targeted at mutant p53 in Ovarian Cancer. 2019.
Optimization of SHetA2 and PRIMA-1MET combination therapy for ovarian cancer. 2019.
HSPA and Client Proteins as Selective Targets for Ovarian Cancer Therapy. 2017.