Moses Bio, Ph.D.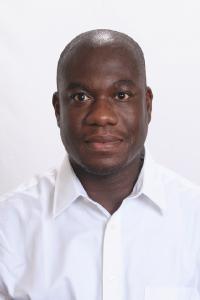 ---
Summary
Development of molecular probe for early stage detection using fluorescence and photoacoustic bimodal Imaging. My research focuses on developing a tissue-specific imaging probe with an effective and noninvasive optical imaging capability. The most important approach for improvement of survival of melanoma patients still remains early diagnosis, along with accurate staging of disease at early stages.
Specific delivery of therapeutic agents (chemotherapy drugs) to a predetermined site. One major challenge still in drug delivery is precise controlled release at the target. My research focuses on developing nano-theranostic drug delivery where near Infrared  (NIR) light is used to control release of therapeutic and diagnostic agents from nanomaterials, specifically development of nano-materials capable of offloading its content initiated by tissue penetrant, cyto-compatible NIR light.      
Development of effective immuno-photodynamic therapy for metastatic prostate cancer. My research focuses on metastatic and advanced prostate cancer treatment with a targeted multifunctional activatable prodrug in combination with photodynamic therapy (PDT) and immunotherapy.  The goal is to develop a treatment strategy combining cell surface antigen targeting, micro-environment activation of chemotherapy, activatable fluorescence PDT and immunotherapy to maximize therapeutic efficacy and minimize side effects.
---
Education & Experience
Ph.D. in Medical/Organic Chemistry
University of Oklahoma, Norman, OK
2012
B.S. in Chemistry
2006
---
Honors & Awards
Professional Awards
Faculty Patent Award-April 2017
University of Oklahoma Health Sciences Center
Ronald F. Borne Outstanding Postdoctoral Poster Presentation Award - May 2017
42nd Annual MALTO Medicinal Chemistry and Pharmacognosy Meeting
John B. Bruce Scholarship Award - 2015
OU College of Pharmacy
Roland E. Lehr Award - 2012
College of Arts and Sciences, OU
First Class Honor - 2006
Dept. of Chemistry, K.N.U.S.T.
Patents
Singlet oxygen-liable linkers and methods of production and use thereof.
US Patent 9,393,306
USA
Y. You, M. Bio, AML Hossion
07/19/2016
New photo-liable linkers, their synthesis methods and application in light-controlled delivery of drugs and other bioactive molecules.
PCT/US13/38031
USA
Y. You, M. Bio, AML Hossion, G. Nkepang
Singlet oxygen-liable linkers and methods of production and use thereof.
International Appl. No. WO2013/163321 AL
USA
Y. You, M. Bio, AML Hossion, G. Nkepang
10/31/2013
---
Publications & Presentations
Li M, Thapa P, Rajaputra P, Bio M, Peer C J, Figg W D, You Y, Woo S. Quantitative modeling of the dynamics and intracellular trafficking of far-red light-activatable prodrugs: implications in stimuli-responsive drug delivery system. Journal of pharmacokinetics and pharmacodynamics. 2017; 44 : 521-536
Thapa P, Li M, Karki R, Bio M, Rajaputra P, Nkepang G, Woo S, You Y. Folate-PEG Conjugates of a Far-Red Light-Activatable Paclitaxel Prodrug to Improve Selectivity toward Folate Receptor-Positive Cancer Cells. ACS OMEGA. 2017; 2 : 6349-6360
Bio M, Rajaputra P, Lim I, Thapa P, Tienabeso B, Hurst R E, You Y. Efficient activation of a visible light-activatable CA4 prodrug through intermolecular photo-unclick chemistry in mitochondria. Chemical communications (Cambridge, England). 2017; 53 : 1884-1887
Grants
no results