Alamdar Hussain, Ph.D.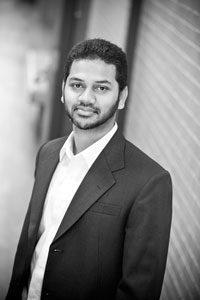 Assistant Professor
Department of Pharmaceutical Sciences
Phone (405) 271-6593 x47472
Fax (405) 271-7505
Office CPB 316
---
Summary
My research interest is primarily focused in the field of inhalation protein and peptide drug delivery. I am currently investigating ways to improve absorption of drugs by non-invasive routes in laboratory animals. I am also exploring and understanding the mechanisms of peptide and protein drug transport in vitro in cell culture models. Also, I remain actively involved in implementing novel methods of teaching and assessment in the classroom.
---
Education & Experience
B.S. in Pharmacy
Kakatiya University, India
2000
Ph.D. in Pharmaceutics
Texas Tech University Health Sciences Center, Amarillo, TX
2005
---
Publications & Presentations
Raghuvanshi D, Nkepang G, Hussain A, Yari H, Awasthi V. Stability studies on an anti-cancer drug 4-(3,5-bis(2-chlorobenzylidene)-4-oxo-piperidine-1-yl)-4-oxo-2-butenoic acid (CLEFMA) using a stability-indicating HPLC method. J Pharm Anal. 2017; 7 : 1-9
Rao G, Hedrick A, Yadav V, Xie J, Awasthi V, Hussain A. The brain metabolic activity after resuscitation with liposome-encapsulated hemoglobin (LEH) in a rat model of hypovolemic shock. J Cereb Blood Flow Metab. 2015; 35 : 1528-1536
Yadav V R, Hussain A, Jun X, Kosanke S, Awasthi V. The salutary effects of diphenyldifluoroketone EF24 in liver of a rat hemorrhagic shock model. Scand J Trauma Resus & Emergency Medicine. 2015; 23 : 8
Yadav V R, Hussain A, Kaustuv S, Awasthi V. Remediation of hemorrhagic shock-induced intestinal barrier dysfunction by treatment with diphenyldihaloketones EF24 and CLEFMA. J Pharmacol Exp Ther. 2014; 351 : 413-422